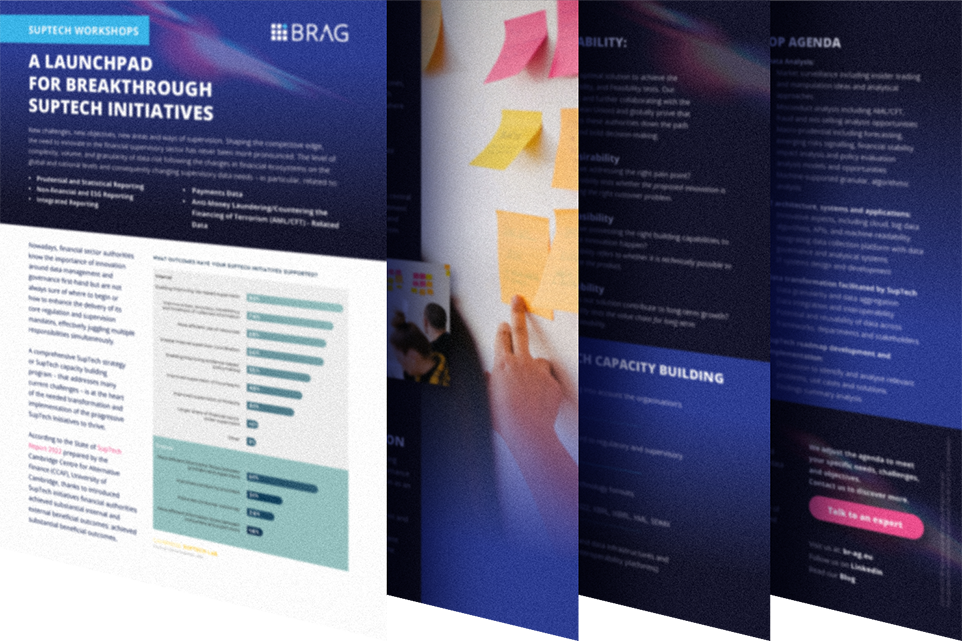 SUPTECH WORKSHOPS:
A LAUNCHPAD FOR BREAKTHROUGH


SUPTECH INITIATIVES
The level of complexity, volume, and granularity of data rise following the changes in financial ecosystems on the global and national levels. Central Banks, Financial Supervision Authorities, and other financial market supervisors are deliberating a comprehensive SupTech Strategy to address emerged supervisory data challenges.

Whether supervisory authorities are planning the development of SupTech Strategies from scratch or revamping the existing ones, our SupTech experts and innovation advisors bring in-depth expertise to support them anywhere along the way.

Learn more about how our SupTech Workshops and applied Design-Thinking Approach enable regulatory & supervisory authorities to take a quantum leap in digital transformation by building a SupTech capacity.
Download the SupTech Workshops Brochure to learn more:
2005-2023 © BR-AG prosta spółka akcyjna. All rights reserved.
Any reproduction without written permission from BR-AG P.S.A. is prohibited.